KONTAKTINFORMATION
For PR henvendelser kan du finde kontaktinfo nedenfor.
IJH Head Office
Holmenevej 31, 3140 Ålsgårde, Denmark
PR & Communications
pr@ilsejacobsen.com
+45 49 70 41 76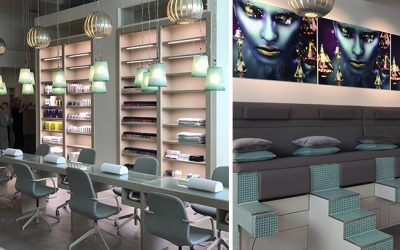 Et nyt skønheds- og spa-koncept TAKE A BREAK Spa slår dørene op til den første af sin slags den 7. april 2017 i Københavns nye bydel, Carlsbergbyen. 'Urban Gardening' is a global tendency, which is Bag det urbane spa koncept står erhvervskvinde og investor...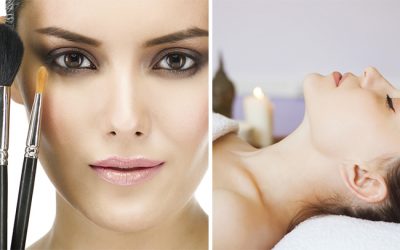 Skønhed og wellness i den nye Carlsberg by Alle har brug for en pause ind imellem, om det er en kort pause fra studiet, fra arbejdet eller blot en pause fra hverdagen. Uanset hvilken pause du behøver, står TAKE A BREAK's professionelle behandlerteam...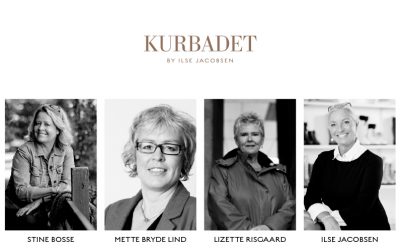 PRESSE MEDDELSE · NOVEMBER 2016 'KVINDEN BAG NAVNET' - NYT LIVE TALKSHOW I KURBADET BY ILSE JACOBSEN Ilse Jacobsen, iværksætter, erhvervskvinde og ejer af livsstilsfirmaet ILSE JACOBSEN HORNBÆK præsenterer et helt nyt live talk show koncept, hvor man...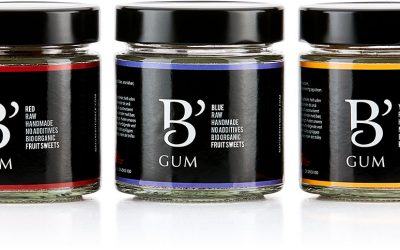 PRESS RELEASE · NOVEMBER 2016 ILSE JACOBSEN INVESTERER I ØKOLOGISK RAW FOOD SLIK I årets sæson af Løvens Hule har iværksætter og erhvervskvinde Ilse Jacobsen haft en forkærlighed for investeringer, som rummer værdiladede begreber såsom...
PRESSEMEDDELSE · NOVEMBER 2016 ILSE JACOBSEN INVESTERER I KVALITETSMADVARER, VIGTIGE VÆRDIER OG MENNESKER I dette års udgave af Løvens Hule har de enkle ideer med et twist også fået plads i Ilse Jacobsens investeringsportefølje - men...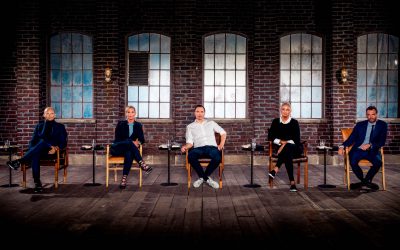 PRESSEMEDDELELSE · OKTOBER 2016 ILSE JACOBSEN ER INVESTOR I SÆSON 2 AF 'LØVENS HULE' Ilse Jacobsen er igen i denne sæson en af de fem løver i investor panelet i programserien 'Løvens Hule', som vises til efteråret på DR1. 'Løvens Hule' er...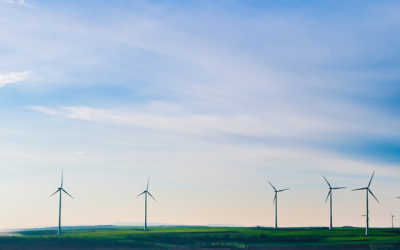 GRØN ENERGI HOS ILSE JACOBSEN HORNBÆK Vi er stolte af at kunne fortælle, at fra d. 1. oktober 2016, arbejder samtlige vores ca. 200 ansatte på alle vores lokationer i Danmark med grøn energi. Ved at omlægge vores energiforbrug til grøn energi,...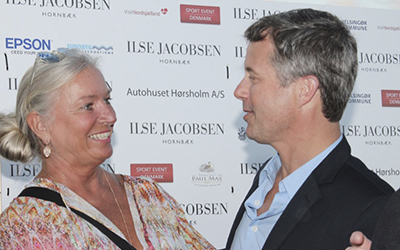 Last night we hosted the official Dragon Gold Cup Dinner on beautiful Hornbæk Beach. It was a lovely evening with great food, good music and guests from near and far. We were honored to enjoy the presence of the mayor of Elsinore, Benedikte Kiær and HKH...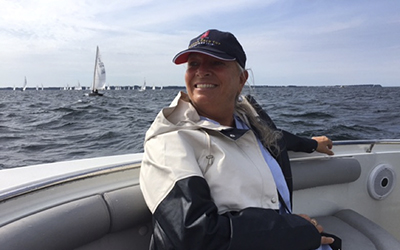 Dragon Gold Cup er et af verdens ældste tilbagevendende stævner i sejlerkalenderen. Den blev sejlet første gang i 1937, da pokalen blev skænket til Drageklassen af skotske Clyde Yacht Clubs Association. Skotterne har stadig en finger med i spillet, når...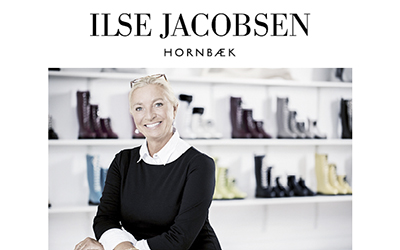 Se også interviewet med Ilse og Morten Albæk, investoren og den nye bestyrelsesmedlem, her: http://nyheder.tv2.dk/erhverv/2016-08-02-interview-med-morten-albaek-og-ilse-jacobsen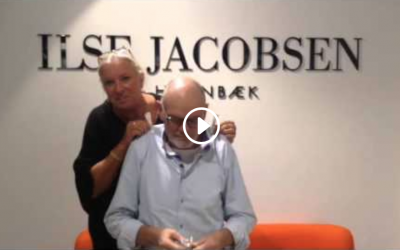 Klemmer der holder - i butikkerne nu Disse unikke, specialdesignede tøjklemmer har en enestående holdeevne og er nemme at bruge, selv for de mest skrøbelige hænder. Klemmerne er lavet af ét stykke plast uden metalelementer, beskadiges ikke af frost...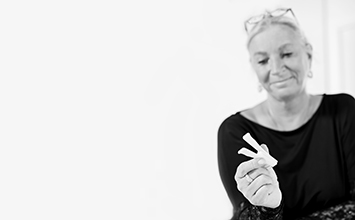 Mine investeringer i sæson 3 af Løvens Hule: DYEKJAER I efteråret 2016 skabte Marie en serie af blomsterkopper, som hun selv trykkede på en særlig maskine hjemme i sin stue i en lejlighed på Østerbro. VIPER-FLEX APS Viper-Flex® skydestokke -...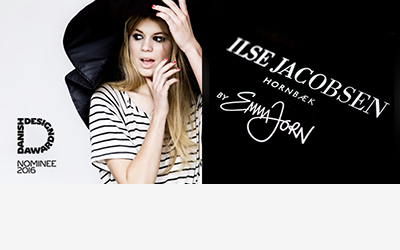 ILSE JACOBSEN HORNBÆK by EMMA JORN nomineret til Danish Design Award 2016 Ilse Jacobsens samarbejde med den unge designer Emma Jorn er nomineret til hele 2 prestigefyldte Danish Design Awards 2016 indenfor kategorierne Employer Growth og Daily Life....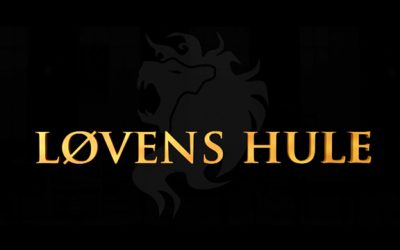 LØVENS HULE SÆSON 2 Kan du og din virksomhed bruge en kapitalindsprøjtning og professionel sparring fra erfarne erhvervsfolk? Tilmeld dig anden sæson af DR1 tv-programmet 'Løvens Hule' inden 15. marts. Du kan hente dit ansøgningsskema på dr.dk/løvenshule...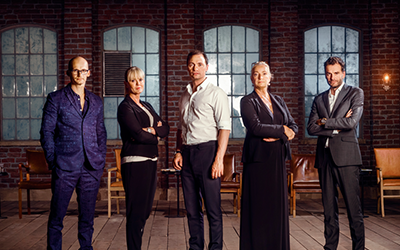 LØVENS HULE SÆSON 2 Vi kan allerede nu afsløre at Ilse deltager i sæson 2 af DR1 tv-programmet 'Løvens Hule'. Ilse glæder sig til at høre om alle de spændende nye ideer og møde iværksætterne. Unikke ideer Ilse er generelt altid interesseret i at høre om...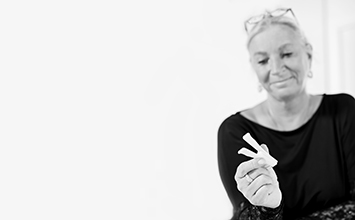 ILSE JACOBSEN INVESTERER I EN KLASSIKER VENDT PÅ HOVEDET Ilse Jacobsen investerede i sæsonens sidste program i DR1 serien 'Løvens Hule' i noget så lavpraktisk, som en tøjklemme. Det, at vende et simpelt produkt på hovedet og redesigne og genopfinde det, er...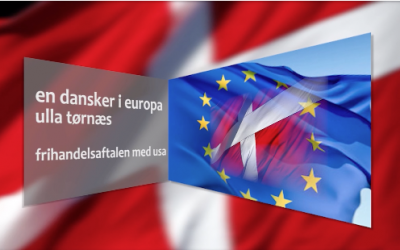 EN DANSKER I EUROPA ILSE JACOBSEN HORNBÆK er med i programserien "En dansker i Europa". Et tv-program på Kanal1, hvor Ulla Tørnæs, medlem af Europa-Parlamentet, diskuterer den transatlantiske frihandelsaftale (en mulig kommende frihandelsaftale...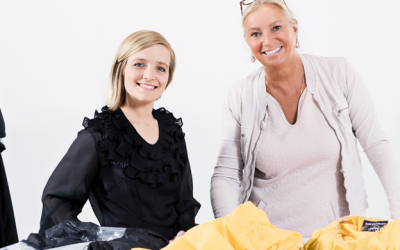 Nyt stærkt samarbejde løfter regntøj op over skyerne Den garvede designer Ilse Jacobsen er en del af investor panelet i det aktuelle DR1 program 'Løvens Hule'. I gårsdagens program investerede hun i den unge designer Emma Jorn, som søgte en investor til at...
'Løverne' blev alle grebet af deres personlige historier i Dr1 programmet 'løvens hule' Igår aftes rullede det andet af programmerne 'Løvens Hule', over skærmen på DR1. I programmet præsenterer iværksættere deres idéer over for fem af Danmarks mest...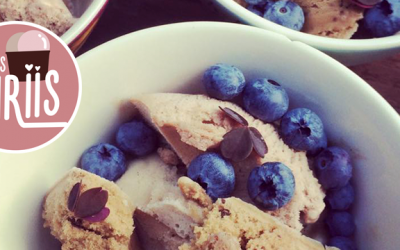 ILSE JACOBSEN INVESTERER I CHRIIS Ilse Jacobsen foretog tirsdag d. 8. september den første investering i DR1's nye programserie 'Løvens Hule'.   Ilse Jacobsen investerede i et par unge kvindelige iværksættere, som producerer en kalorielet, laktose- og...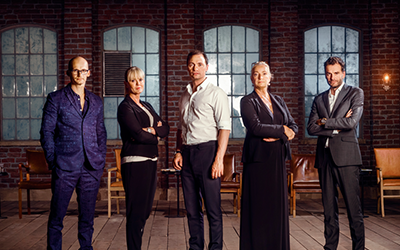 LØVENS HULE / DRAGON'S DEN Ilse Jacobsen medvirker i ny programserie på DR1 'Løvens Hule'.   Ilse Jacobsen bliver en at de fem løver i investor panelet i DR1's nye programserie 'Løvens Hule', som vises første gang den 8. september kl. 20:45.   'Løvens...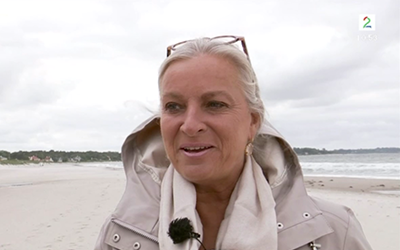 ILSE JACOBSEN MEETS TV2 NORWAY IN HORNBÆK - SEE THE INTERVIEW HERE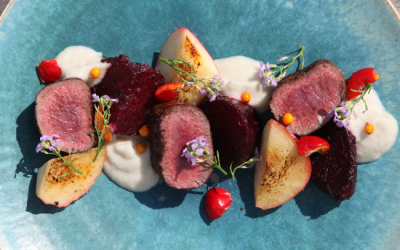 Deer, onion and beetroots Serves 4 700 g fallow deer fillet 1 tsp. butter Salt and pepper 2 apples Trim all tendons off the meat. Cook in butter in a hot pan until medium rare. Salt and pepper to taste. Let the meat rest for ten to fifteen minutes before...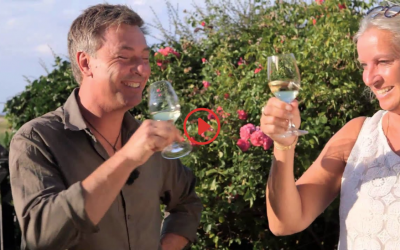 Nordic Cookery Watch BBC's international cooking show about Nordic food and lifestyle, NORDIC COOKERY featuring Ilse Jacobsen and KURBADET on May 6 at BBC Lifestyle and BBC Nordic. In the program, the renowned chef Tareq Taylor visits Danish...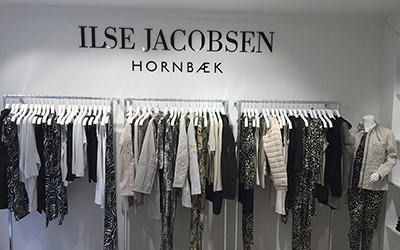 Det danske livstilsbrand ILSE JACOBSEN HORNBÆK åbner sin tredje konceptbutik i Sverige, nemlig i Visby på Gotland.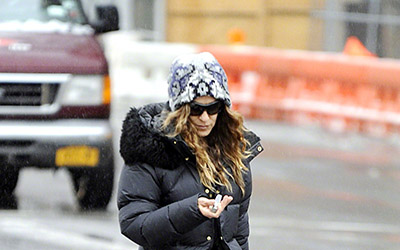 'Sex and the city' star Sarah Jessica Parker is wearing a pair of Ilse Jacobsen Rub1 rain boots on a winther day in New York.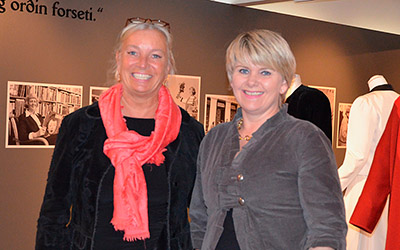 ILSE BY ILSE JACOBSEN LAUNCH IN ICELAND ILSE by ILSE JACOBSEN was launched on Iceland Friday the 24th of October. The launch took place both at the ILSE by ILSE JACOBSEN HORNBÆK store and at The Design Museum of Art. Prominent guests such as The Minister...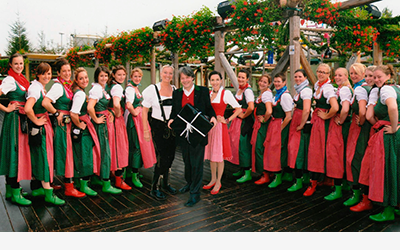 ILSE JACOBSEN AT OCTOBER FESTIVAL WITH THE KÄFER TEAM At this years October festival in Münich Ilse Jacobsen Hornbaek sponsored the Käfer team with our iconic rub2 with the lace-up front.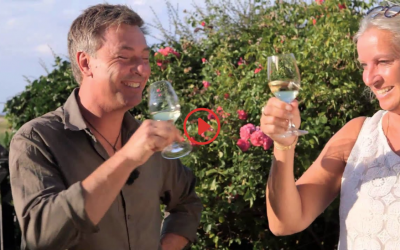 THE INTERNATIONAL TV SUCCES, NORDIC COOKERY, VISITS ILSE JACOBSEN Today we started the recordings for the BBC produced programme NORDIC COOKERY with the talented chef Tareq Taylor. Nordic Cookery is an international cooking programme about Nordic food and...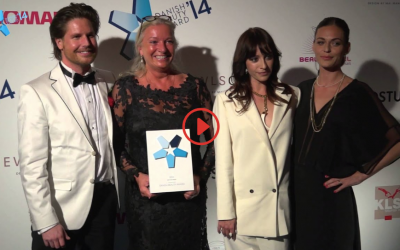 Når du siger Ilse Jacobsen – ja, så siger du næsten automatisk "gummistøvler", men Ilse Jacobsen var ved Danish Beauty Award 2014 glad for, at gummistøvler ikke blev nævnt med et ord af andre end hende selv… For prisen som Årets Nye Brand har intet med...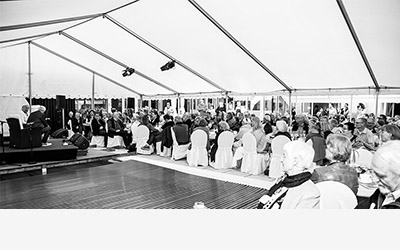 One of Denmark's most popular radio shows, Café Hack, visted Ilse Jacobsen's new spa, KURBADET by ILSE JACOBSENrecently, to record one of their sessions. Ilse Jacobsen was interviewed, as well as famous and talented pastry chef Mette Blomsterberg. The very...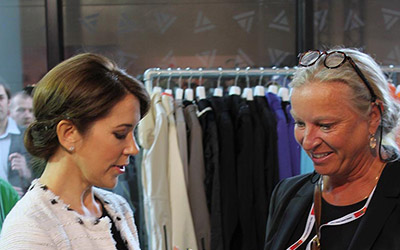 We are part of the official business delegation accompanying H.R.H. Crown Prince Frederik and H.R.H. Crown Princess Mary to Poland. Ilse Jacobsen had the honor of talking to H.R.H. Crown Princess Mary and showing her our great new styles.
ILSE JACOBSEN HORNBÆK åbner den første flagship store hvor hele livsstilsuniverset repræsenteres under ét tag. For første gang nogensinde åbner Ilse Jacobsen fredag den 11 april 2014 dørene op til den første flagship store, som repræsenterer hele Ilse...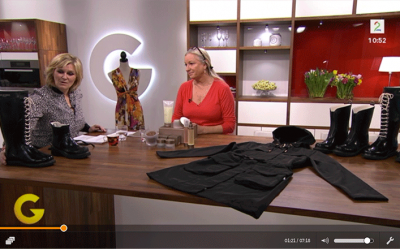 Se udsendelsen her: https://www.tv2.no/v/801606/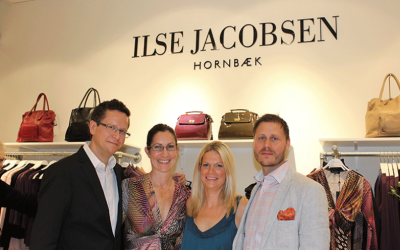 ILSE JACOBSEN HORNBAEK opens the doors to its 20th concept store. It is the Danish brands second concept store in Sweden and this time located in the heart of Stockholm. The shop is of course filled with the most delicate autumn news within clothing, shoes...