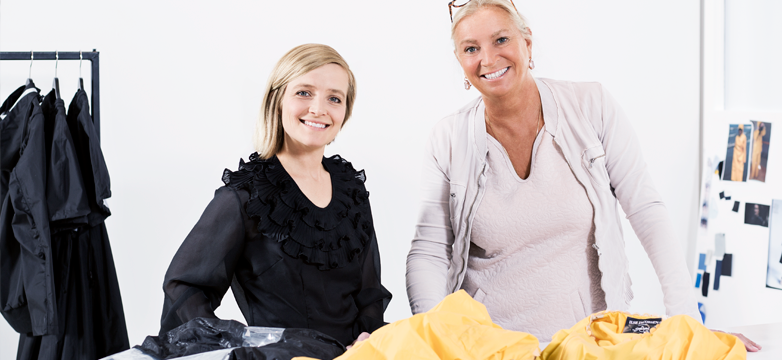 Nyt stærkt samarbejde løfter regntøj op over skyerne
Den garvede designer Ilse Jacobsen er en del af investor panelet i det aktuelle DR1 program 'Løvens Hule'. I gårsdagens program investerede hun i den unge designer Emma Jorn, som søgte en investor til at løfte sit innovative regntøj op over skyerne.
De to designere skaber tilsammen et helt nyt brand – ILSE JACOBSEN HORNBÆK by Emma Jorn – hvor frugten af samarbejdet vises under Copenhagen Fashion Week i februar 2016. Forvent den eminente kvalitet og leg med materialer, som kendetegner Ilse Jacobsens ikoniske regntøj, og glæd jer til nyskabende design, der allerede har givet Emma Jorn omtale i mange af verdens modemedier.
Ilse Jacobsen og Emma Jorn skaber sammen et fashionabelt urbant storby look med funktionelle egenskaber og stadig med rod i det traditionsbundne. Samarbejdet vil i det kommende år vil byde på en helt ny vinkel på regntøj under Ilse Jacobsen. Klassisk og koket, vildt og vovet. Det er urbant, cykelvenligt og med et touch af orientens tildækkede og dog lokkende leg.
'Det bliver en kollektion hvor vi mikser heritage med fashion og hvor vi giver et nyt innovativt bud på urbant regntøj' siger Ilse Jacobsen.
Ilses erfaring som forretningskvinde og designer med et skalerbart kommercielt produkt er netop en af de forcer som den unge designer Emma Jorn søgte. 'Her er en kvinde med stil og stålvilje, et forbillede og – helt ærligt – en kilde til beundring for hvordan hun har opbygget sin virksomhed' siger Emma Jorn.
Til de, som ikke kan vente, er der lavet en rebranded reproduktion af de mest kommercielle Emma Jorn styles, som blev vist i 'Løvens Hule'. Det er muligt at købe disse via www.ilsejacobsen.com indtil den nye kollektion, lavet i samarbejde mellem de to designere, lander i butikkerne til sommer 2016.
In English
A new powerful collaboration takes rainwear to the next level
The highly experienced designer, Ilse Jacobsen, is a part of the investor panel in the current show on DR1, 'Løvens Hule'. In yesterday's show she invested in the young designer, Emma Jorn. Emma searched for an investor to lift her innovative rainwear way up high. The two designers created a whole new brand – ILSE JACOBSEN HORNBÆK by EMMA JORN. The outcome of this collaboration will be visualized at Copenhagen Fashion Week in February 2016. Expect exquisite quality and the playfulness that characterizes Ilse Jacobsen's iconic rainwear. Look forward to innovative designs, which have already put Emma Jorn on the map in the world's fashion forums.
Ilse Jacobsen and Emma Jorn create a chic urban look with functional qualities, but still with a traditional foundation. In the following year, the collaboration will open up for new perspective on rainwear in Ilse Jacobsen's reign.
Classic, coy, wild and daring.
It is urban, easy to wear while using your bicycle and with an element of the Orient's covered, yet tempting play.
'It's going to be a collection, where we mix heritage with fashion and where we make our version of innovative urban rainwear.
Ilse's experience as a businesswoman and designer with a measureable commercial product is exactly one of the strengths Emma Jorn was looking for.
Emma Jorn states –  'Ilse is a woman with great style and a strong will. She is a role model for me and the way she has created her business is truly a great inspiration for me'.
For the impatient, a rebranded reproduction has been made of the most commercial styles, shown in 'Løvens Hule'. It is possible to purchase these styles on ilsejacobsen.com until the new collection by the two designers is in stores next summer.